If Day One of the Barista Competition at the US Coffee Championships Denver Qualifying Event was all about the newcomers, Day Two is undoubtedly for the veterans. There's no shortage of competitors today who have made deep runs at the US Barista Championship, including a few folks with "finalist" on their résumé.
The experience definitely showed today, with very few competitors fighting the 11-minute DQ mark, something that plagued yesterday's performances. Even with 29 competitors taking the stage today, the day flew by. So let's look back at all the action from Day Two of the US Barista Championship Qualifying Event in Denver, Colorado.
SprudgeLive's coverage of the 2019 US Coffee Champs is made possible by Joe Glo and Mahlkönig. All of SprudgeLive's 2019 competition coverage is made possible by Acaia, Baratza, Faema, Cafe Imports, and Wilbur Curtis.
Mendoza competes with a washed coffee from the Philippines, the first competitor to use this origin at Qualifiers.
Notes of key lime, lemongrass, dark sugar, and marshmallow in Mendoza's Philippine espresso course.
No pressure Merlin, but two of your judges are a US Barista Champion and regular fixture in the Finals, @lailaghambari and @coffeeandbikes, respectively.
Mendoza's nitrogenated sig bev get stored in glass boxes, which he pumps in smoke to finish off.
"To finish, judges, my name is Merlin and I'm from the same place as this coffee." – Merlin Mendoza of @MostraCoffee
Palazuelos is using an anaerobic processed Yellow Catuai grown at 1900MASL in Tarrazu, Costa Rica.
Notes of orange and a buttercream finish for Palazuelos' Yellow Catuai espresso course.
Pineapple juice, tamarind, palm sugar simple, basil water, coconut milk, and aquafaba all get blended together for Palazuelos' sig bev.
David Palazuelos of @prestacoffee calls time at 9:53.
Canyon's espressos have all the hallmarks of an Ethiopian coffee: peach-like stone fruit and black tea notes. Add in a hint of papaya, and you've got a beautiful sounding espresso course.
Pine nut milk, sage-infused water, and chilled espresso get shaken together and blended to aerate, giving Canyon's sig bev notes of peach marmalade and guava.
Audrey Canyon of Firecreek Coffee calls time at 10:24.
Bonk is using a natural processed coffee, grown at 1900-2100MASL in Ethiopia's Bombe Mountains.
With tropical fruit aromatics akin to guava and pineapple, Bonk's espressos express notes of tart raspberry, green mango, and a 65% dark chocolate finish.
Bonk trying to win some Denver points by shouting out some local breweries and fashioning his sig bev after his favorite type of beer: a flemish red ale.
So what's in a non-alcoholic flemish red ale? Espresso, guava juice, coffee flower honey simple for its "belgian yeast quality," hibiscus wakatai iced tea, and fever tree tonic.
Ogawa took an interesting road getting to the US Qualifying Event, starting as a roastery in Kyoto, Japan 60 years ago. They have since opened a US location in Kyoto's sister city of Boston.
Jiang competes with a washed Maragogype, the Pandora, from Finca El Injerto in Huehuetenango, Guatemala.
Tasting notes for Jiang's espresso course include, dark chocolate, honey, and orange zest.
Jiang's soundtrack includes a song by Emancipator, which is NOT as I originally thought, a down-tempo stringed version of TLC's "No Scrubs"
Jiang's sig bev is a take on an orange chocolate Milano cookie, including components that bring out the orange and chocolate notes in her espresso.
Elliott Spencer, Independent
Spencer is using a blend of SL28 and SL14 coffee grown in the volcanic soil of southwest Uganda and naturally processed
Cocoa and graham cracker aromas transform into cocoa, malt, and chocolate covered cherry on the palate for Spencer's Ugandan espresso course.
Tart cherry concentrate, aquafaba, lemon zest, and espresso get a nitro charge, served in a lemongrass rimmed glass for Spencer's sig bev.
Elliott Spencer calls time at 12:33
"This coffee changed my perception" Persinger says of her competition coffee, from an origin she has withheld from the judges so they can taste it blind, with no preconceived notions of the origin.
Blood orange, brown sugar, and baking spice notes in Persinger's espresso course, stirred 10 times by the judges as per her drinking instructions.
In a surprising turn, Persinger reveals the origin of her coffee as the Guji Zone from Ethiopia. Indeed, the floral qualities associated with Ethiopian coffees are not found in her Mordecofe.
Persinger's sig bev is reminiscent of a bloody mary. Heirloom tomato confit, lemon juice, pink peppercorn, rice milk, and pink hawaiian sea salt comprising the drink.
.@cody_mcgr competes with a coffee grown by Daniel Moreno on his El Filo farm in El Cedral in Santa Barbara, Honduras.
100% Catuai, @cody_mcgr's El Filo espressos have notes fuji apple, golden raisin, caramel, and clove.
Chilled espresso, pineapple juice, brown sugar simple, and sparkling water in @cody_mcgr's sig bev, giving notes of grapefruit, cola, and honey.
Cody McGregor of @ReAnimatorPhila calls time at 9:49
Han is competing with a honey processed coffee from Santa Barbara, Honduras, grown at around 1500MASL.
Han's honey processed Honduran coffee expresses notes of dried cranberry, tamarind, dark chocolate, and black cherry as espresso.
What do you think is more intimidating? Being judged by 2014 US Barista Champion @lailaghambari or representing 2008 and 2015 US Barista Champions @glanvillain and @charlesbabinski? I'm getting the pit sweat just thinking about it.
Freeze dried Taiwanese oolong tea and basil comprise the sig bev for Han.
19g in, 50g out in 36 seconds for Nawrocki's Ethiopian natural espresso course. @ManzanitaCoffee
Pureed tropical pineapple guava grown just outside the roastery, brown butter sauce, orange simple, and a 20% salt solution for Nawrocki's sig bev course.
Weston Nawrocki of @manzanitacoffee calls time at 9:35
Trujillo competes today with a Inga community in Aponte, Colombia.
Medium bodied, with tasting notes of green apple, graham cracker, and papaya in Trujillo's Colombian espresso.
Iced tisane, rose water simple, and espresso finished off with a hit of nitrous for Trujillo's sig bev.
Black cherry, orange zest, and pomegranate flavor notes in Trujillo's sig bev course
Young is using a washed Panama Gesha, giving her espresso notes of green apple, lime zest, and pinot grigio.
Shout out to all the emcees today who are pulling double duty bussing cups. If I were an emcee doing that, I'd insist people call me Bussta Rims.
Strawberry infusion, sparkling water, orange blossom water, and espresso comprise Young's Panama Gesha-based sig bev course.
Alexandrya Young of @BirdRockCoffee calls time at 11:10
Peralta is talking complexity and using 7x7x7 Rubik's Cubes to represent solving the puzzle of balancing the complexity.
Peralta is using the Guatemala Miravalle, grown at 1500-1900MASL, roasted to bring out the coffee's inherently bright acidity.
We're over 6 minutes into Peralta's routine and there has been no Swishahouse or DJ Screw or Paul Wall in his soundtrack, which poses the question: can it even be a Houston routine without Swishahouse?
Bright green apple acidity in Peralta's Guatemalan espresso course here at #coffeechampsdenver
Dissolved green apple licorice, candied ginger, cold pressed apple juice, and chilled espresso get a dry shake for Peralta's sig bev course.
Peralta's coffee may have been Guatemalan, but his routine was definitely Cubin'.
"Coffee is an infinite puzzle," @raechelh tells the judges. Her puzzle pieces? A lactic washed Sidra variety coffee from @LAPALMAyELTUCAN in Colombia, roasted by @OnyxCoffeeLab
Grapefruit and cranberry acidity, pillowy texture, and sugarcane sweetness in @raechelh's La Palma espresso course.
Acid whey, pomegranate syrup, and La Palma espresso in @raechelh's sig bev, giving the drink notes of cranberry kombucha and a subtle peanut butter sweetness.
Raechel Hurd of Epoch Coffee calls time at 9:59.
.@thejoelpaul competes with a washed Ethiopia sourced through Catalyst Coffee Consulting, with notes of white grape, fresh peach, dried apricot, and a baking spice finish.
Fresh basil, white grape juice reduction, and white tea infused syrup make up the sig bev for @thejoelpaul.
Joel Bigelow of @messenger_co calls time at 9:53.
"The stage is set, the coffee is dialed in, now it's time for the show to start," Kim tells the judges as P!nk's A Million Dreams from the Greatest Showman plays in the background
With sig bev shots, cooling, Kim is serving judges the espresso course first, with notes blood orange, blackberry, honey, and subtle rose water.
In lieu of drinking/stirring instructions, Kim is going the extra mile and stirring each judge's espresso individually.
Jasmine water, lemon juice, and centennial hop syrup in Kim's sig bev, for notes of lavender and honey.
Bessette is competing today with a washed Bourbon from Huehuetenango, Guatemala.
Bessette is serving his espressos in frozen glassware to bring down the temperature, giving the coffee notes of milk chocolate, apricot, and a rose florality
Frozen coffee and flash-chilled portafilters, Bessette is invoking a lot of World Barista Championship techniques for his sig bev.
4:1 espresso extraction, light molasses, malic acid solution, and star anise herbal tea reduction, all nitrous charged to create something like a "coffee root beer" for Bessette's sig bev.
Griffin competes with a washed Kenya made of Kenya SL28, SL32, and Ruiru 11 varieties. We've somehow made it all the way to the midpoint of Day Two and are just now seeing our first Kenyan coffee.
Bright guava, grapefruit aromatics, papaya and brown sugar sweetness in the Kenyan espresso course for Griffin.
Brown sugar grapefruit simple, coconut water guava emulsion, and Kenyan espresso, shaken together for Griffin's sig bevs.
Edward Griffin of @PTsCoffee calls time at 10:02
Wessels is using a mixed Heirloom washed Ethiopian coffee today, with flavors of Jasmine, lemon peel, cantaloupe, cherries, and sweet lemon
Wessels sig bev is a real acid trip y'all. Ascorbic acid, citric acid, malic acid, and simple syrup all get nitrogenated along with the espresso.
Cantaloupe, tart cherry, and grapefruit notes in Wessel's trippy sig bev.
Derrick Wessels of @beaglecoffeeco calls time at 9:59.
Though only their second season competing, @samneeeee already has a USBC finals appearance under their belt, which is pretty, pretty, pretty impressive.
.@samneeeee competes with a coffee from @LAPALMAyELTUCAN in Colombia, giving flavors of floral honey, tangerine, and jasmine.
There's a lot of energy in @samneeeee's routine and the crowd has been the loudest its been all day in response.
Lemongrass simple, separated milk, and blackberry juice, finished off with a dry iced jasmine water on top for @samneeeee's sig bev.
Amento is competing with a natural processed Ethiopian coffee from the Bensa region of Sidama, grown at 1900MASL.
Grape, orange marmalade, honeydew, and orange blossom flavor calls on Amento's espresso course.
Cold steep jasmine tea, citrus peel simple, quinine, and citric acid, all carbonated and topped with chilled espresso for Amento's sig bev.
Austin Amento of @AugiesCoffee calls time. The clock was not working, but Amento was able to stay under the 10 minute mark.
DeGoosh competes with a perla negra natural processed SL28 grown by Oscar & Francisca Chacon at Las Lajas in Costa Rica.
Notes of tart cranberry, 70% dark chocolate, rosé, and plum in DeGoosh's Costa Rican natural espresso.
Whey, pineapple cane sugar syrup, and espresso, finished off with handmade sage soda water in DeGoosh's sig bevs.
Lemon lime, caramel, milk chocolate, juniper, and fig tasting notes in Milo's sig bev.
Coffee for @naidatweets today is the Tabi variety grown at 1750MASL by Victor Herrera in Huila, Colombia.
Notes of grapefruit, cranberry, and red wine from @naidatweets Tabi variety espresso, served in chilled cups.
Really loving @naidatweets very pink-forward mid-century setup for her service today.
Stewed cranberry and date nectar, pomelo skin infusion, moonlit jasmine tea, nitrous charged and finished with a dry ice vapor for @naidatweets sig bev, requesting judges not drink until after she has called time.
Naida Lindberg of @Vervecoffee calls time at 10:00 on the nose. And the judges get to sip on the sig bevs.
WE'VE GOT OUR FIRST SONG FROM THE NOW SOUNDTRACK!!! Drake's Passionfruit kicks off Giannone's soundtrack.
Giannone competes with a natural processed coffee from Hacienda Sonora in Costa Rica, grown by Diego Guardia.
Walnut aroma, tart cherry, red wine acidity, tobacco finish, and a 90% dark chocolate aftertaste in Giannone's espresso course.
Raspberry reduction, honey whipping cream, mascarpone, and cane sugar, garnished with fresh rosemary in Giannone's sig bev.
Giannone has officially locked up the best soundtrack award by finishing out the set with SZA's Go Gina. By rule, the rest of the competitors must now perform in complete silence.
Hopper competes with a coffee from the Catracha Coffee Community in Santa Elena, Honduras.
Silky body with a lingering finish for Hopper's espresso, with notes of ruby red grapefruit and all spice baked apples.
Sig bev for Hopper includes @askinosie cocoa nib ice, dried cranberry infusion, espresso, and almond milk, stirred, served chilled and finished with a lime spray.
Coffee for Callejo is a Pacamara grown by Ricardo Ariz at El Aguila in El Salvador.
red wine, strawberries, lemon acidity, and a 85% cacao bitterness in Callejo's espresso course.
Callejo's sig bev is a play on a cheese board "to pair with the red wine flavor" in the espresso. Bitters, fig and lemon simple, egg white, and chilled espresso all get a dry shake.
Reyna Callejo of @OlympiaCoffee calls time at 10:52.
Home town is representing. Next up is Emily Orendorff of Boxcar Coffee Roasters in Boulder, CO
Orange zest, brown sugar sweetness, raspberry, and bakers chocolate in @coffeestain3000's washed SL28 and SL34 Peaberry coffee from Kirinyaga, Kenya.
Inspired by a classic sour cocktail, @coffeestain3000's sig bev includes an orange oil tea rinse, blackberry shrub, gum arabic syrup, and egg white, shaken over ice, finished off with just a touch of chocolate.
Emily Orendorff of @boxcarcoffee calls time at 10:00 on the nose.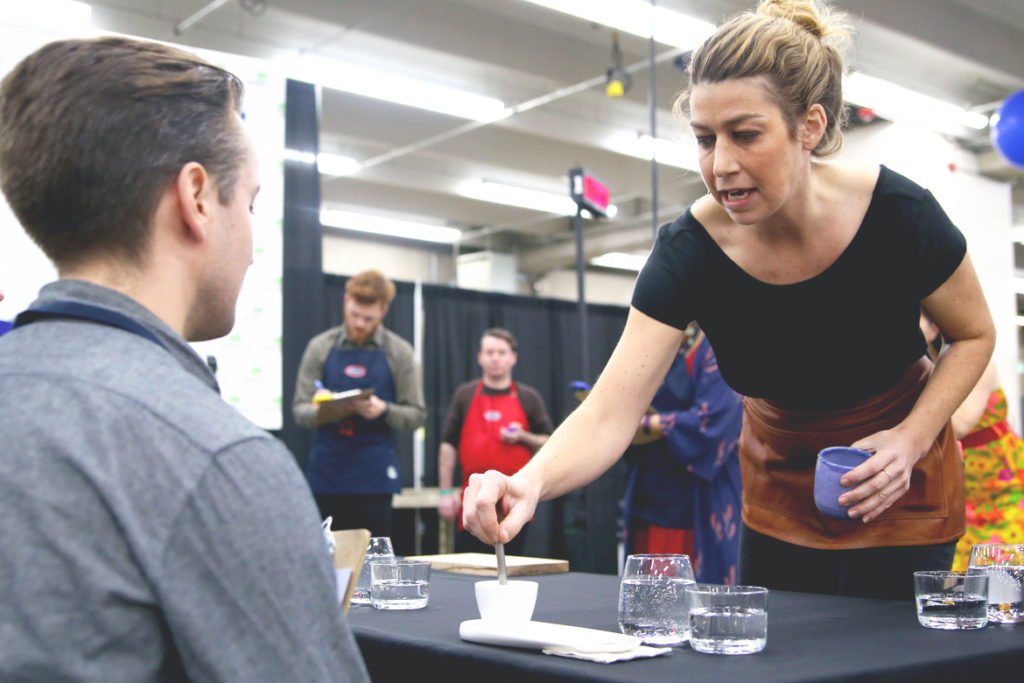 Allen has a big, funky looking gadget on stage. My guess is that it's a cement mixer.
Always with a poignant routine, Allen is talking about the current dichotomy in coffee: the highest prices ever paid for a coffee happened this year while the C-Market price has dipped below $1.
Allen competes with a pre-fermented Gesha from Cera Azul in Colombia, expressing notes of tart cherry, floral honey, mandarine, and finishes with cacao nib.
It's a cold pressed juicer! Allen's sig bev is incredibly interesting.
Diced champagne mangos, raspberries, Haas avocados, and Cera Azul espresso gets run through the cold press juicer.
Our very last competitor of the weekend is Matthew Barahura of Intelligentsia Coffee
Notes of fresh lime, pomegranate, dried black currant, dried apricot, and candied walnut finish for Barahura's Ethiopian espresso.
Barahura is now getting to the chilled espresso shots he set aside earlier in the routine for his sig bev course.
Egg white and chilled espresso shaken together, with guava juice, tart cherry infusion, and preserved lychee syrup, Barahura serves his sig bev in a glass finish a star anise rinse.